This week was ThinkTank week at Lake Washington Girls Middle School, a week where half the student body is at Broadway Performance Hall preparing for the spring production, and the other half is on campus, spending their days in deep-dive projects.
This year, eighth grade students spent ThinkTank week creating their own Startups, complete with business plans based on market research and strategy, mission statements, branding packages, and web products (an app or a website).
The week began with a visit from Seattle's own Molly Moon Neitzel of Molly Moon's Homemade Ice Cream, who spoke to students about her journey to becoming CEO and the valuable life lessons she learned along the way. She also urged students to think about how to create businesses with strong values systems woven through every aspect of their organizations – very much in line with the social justice values at LWGMS.
After some brainstorming and wireframing, every student pitched an idea to her classmates and students narrowed down the pool by selecting the business idea – each one of them social justice-themed – they most resonated with. Teams formed and the girls got to work. They developed the beginnings of seven businesses, such as the two winners, Blend, a company creating bandages that perfectly match their customers' skin tones, and Z, an online community for gender-judgement-free shopping.
Our students spent the week collaborating, building useful products and websites, and asking each other hard questions. Today the girls hosted a Startup Symposium for their peers (potential investors in this case) to pitch their ideas. Each student was given one heart distribute to the company of her choice, representing her investment in their mission, values, and work.
We were excited that King5 came to cover the symposium, and reported about it on Friday's 4pm news!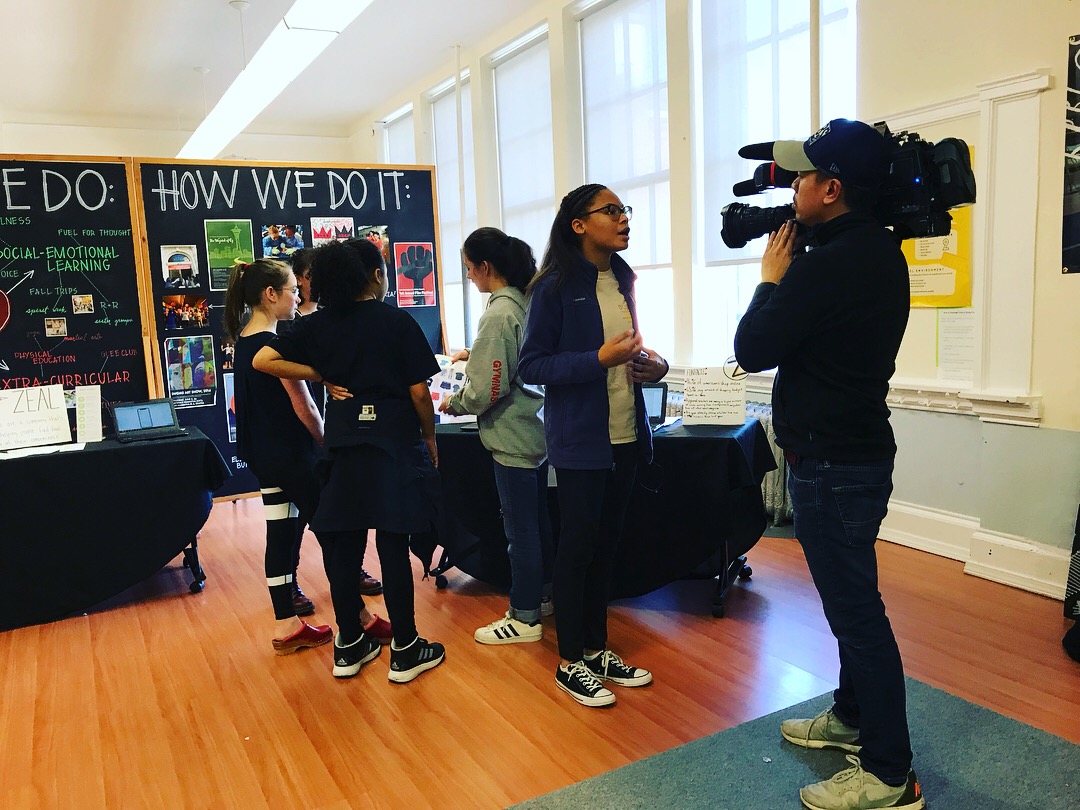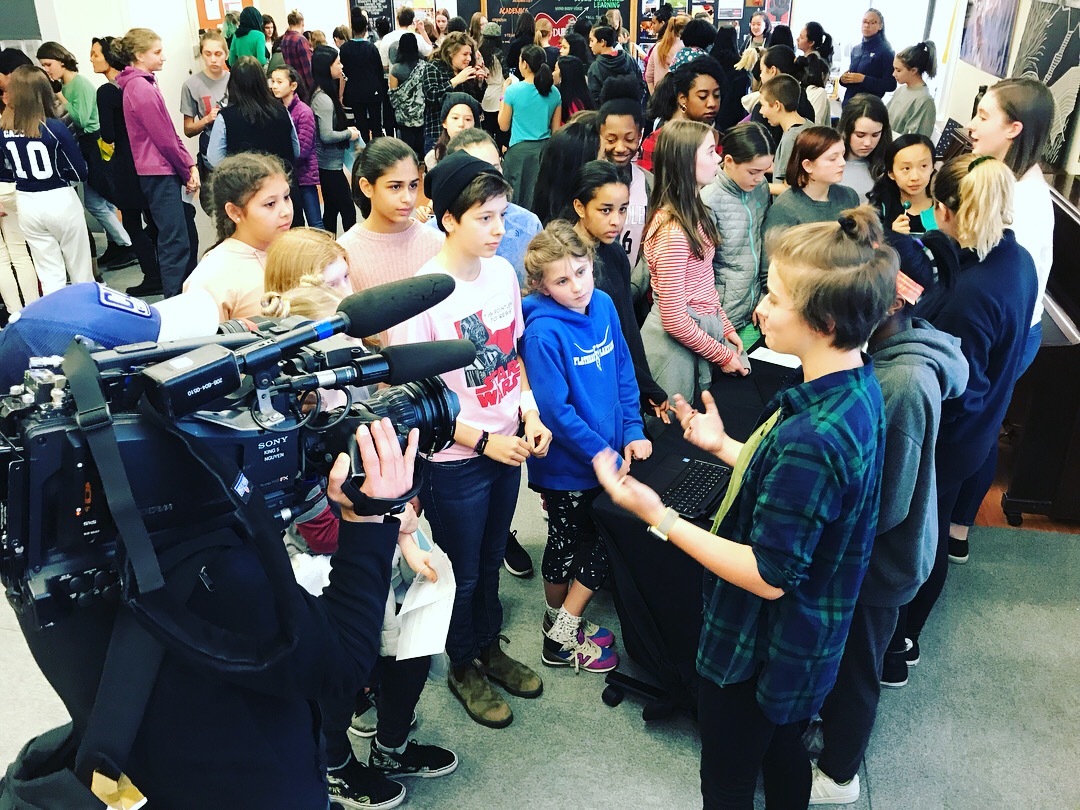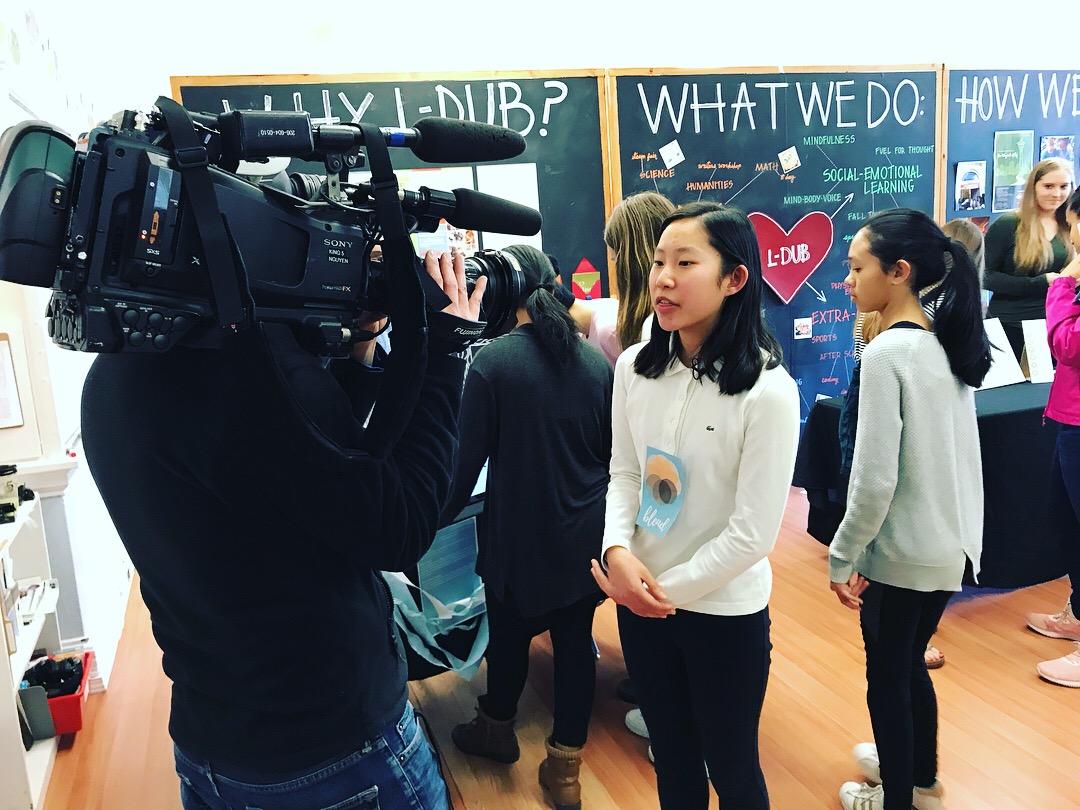 The Winning Companies (from the students):
Blend (Website)
Girlpreneurs: Kyra, Anabel (filmed), and Valerie
Mission: BLEND works to make all people feel comfortable wearing bandages, no matter the color of their skin.
Pitch: BLEND is a company that creates bandages in a variety of skin tones so that all people can feel comfortable using bandages. We want all people to know that their skin is beautiful, even if it does not match the "flesh-colored" bandages sold in retail stores.
We offer a variety of different bandages, such as adhesive bandages and elastic bandages.
On our website, you can send us a picture of your skin, and then we create a custom color that matches it. You can also choose from a large selection of colors on our color palette to create a bandage that matches your skin tone.
Z (Website)
Girlpreneurs: Ella, Allison (filmed) and, Charlie
Mission: We provide a safe and easy way for people to buy the clothes that fit their personal style without the limitations of binary labels.
Tagline: GENDER Judgement free shopping
Elevator Pitch: Z is a personalized website where people can shop for their favorite brands from the comfort of home, without the discomfort of feeling as if someone is judging you for your style.
What the website does: Our website was made with the goal of eliminating the judgement that surrounds clothes shopping. We conducted a survey at our school where we asked participants to circle pictures of clothing articles that they thought they would wear. The pictures were of both men's and women's clothing, and participants were not told which was which. We found that, even though the majority of our classmates shop in the women's section, everyone circled at least two items that were sold as men's clothing. None of the clothes are categorized by gender, and our sizing doesn't include the language "plus" or "petite," but instead, uses numbers. Our website features a tool that allows users to input their size and measurements. With that information, pieces of clothing are recommended for the customer.